Welcome to Classifieds Hua Hin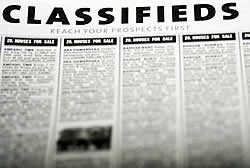 How to use Hua Hin Classifieds
To submit a classified please login or register for free, please only submit classifieds relative to the Hua Hin area. Hua Hin Classifieds are FREE for personal use and small businesses however all classifieds are subject to approval and will not appear instantly.

NOTICE: Due to the level of spam we get all registered accounts will now need admin approval, if you have registered before and can't login please contact us. Alternatively you can also post your classifieds for free on Hua Hin's busiest web portal: Hua Hin Classifieds.

Hua Hin Property Classifieds
We welcome private listings for property for sale or rent - only one will be permitted per user. Commercial listings are subject to a small fee, real estate or rental agents and property developers are welcome to contact us for advertising details if they wish to list their properties here and on our website network.
All non Hua Hin based classifieds, spam and commercial property ads will be rejected unless an advertising agreement is made.
Categories
Business (26)
Small local business and commercial ads.
Employment (138)
Seeking staff or looking for work.
General (222)
General and household items for sale. replica jaeger lecoultre audemars piguet grand prix replica
Motoring (196)
Cars, pickups, bikes for sale.
Personals (17)
Lonely hearts, seeking friends or partners, massage and personal services.
Real Estate (207)
Property, houses, land and condominiums for sale in and around Hua Hin.
Rentals (223)
Houses, condos and apartments for rent in Hua Hin.
Technology (76)
Computers, software, internet, websites, mobiles, TV, DVD, media, servicing, repair and maintenance.
Wanted (87)
Items or services wanted.